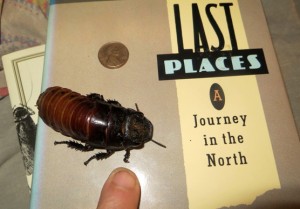 Nowadays, a lot of people are keeping cockroaches as pets. While reviled by most, keeping insects as pets has become a popular trend for kids and adults alike. People keeping cockroaches in their home is not new, however, as reptile owners have been keeping them as food for their snakes and other cold-blooded creatures as long as people have owned reptiles. There are always going to be unusual people in the world who find beauty in the strangest things, and surprisingly cockroaches do make great pets. In this post, we will look at why. It's important to note that the cockroaches that people keep as pets are not the same cockroaches that can be found infesting their homes. If you do find unwelcome cockroaches in your home then you should visit a site like https://www.pestcontrolexperts.com/local/maryland/lex-park/ and have them removed immediately, as they could pose a risk to your health and safety. Anyway, today we are looking at the giant Madagascar hissing cockroach and outlining the reasons why they can make a great pet!
1. They do not bite you, scratch you, or leave dead mice on your pillow. Nor do they confuse your leg with a sexual partner.
2. Their slow, indeed downright torpid movement can induce a zenlike state in the observer.
3. They tend not to possess the universal cockroach baggage: harmful bacteria, viruses, or worms.
4. They don't wrack up expensive veterinarian bills.
5. Even if you did step in their poo, it would not produce the "ick" factor that stepping into the poo of (for example) a Canis familiaris would.
6. They don't mind the absence of food in their terrarium. Go away for a month, and they just alter their metabolism accordingly.
7. They are among the few insects that communicate with a breath-powered voice, like birds and mammals.
8. Tape record a male hissing, replay it for a female, and watch her body palpitate with excitement.
9. They don't wake you up in the middle of the night because they need to be let outside.
10. They don't stick their muzzles into something nasty and then lick you.
11. They possess symbiotic mites that frolic like ballet dancers around their exoskeletons.
12. Those exoskeletons bear a close resemblance to polished mahogany.
13. Unlike certain pets, they're not stuck in a state of perpetual childhood. Instead, they pass from egg to instar to adult without a backward glance.
14. They'll eat anything you eat and, in addition, they'll eat their own molts.
15. They don't hiss at the neighbors.
16. They're more or less unchanged in 365 million years. As the cockroach archy (of archy and mehitabel fame) said to the reader: "after all we were around when you were only a whatsis."