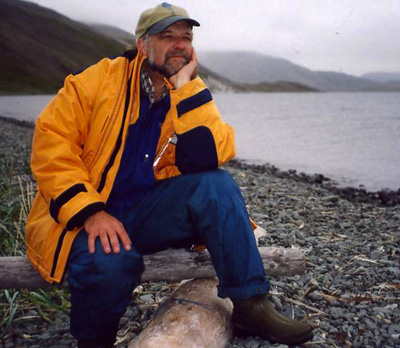 Lawrence Millman is a man of many talents. As an author, he has written 16 books, including such titles as Last Places, A Kayak Full of Ghosts, An Evening Among Headhunters, Lost in the Arctic, and — most recently:
Goodbye, Ice: Arctic Poems (2020)
At the End of the World: A True Story of Murder in the Arctic (2016)
Giant Polypores and Stoned Reindeer (2013)
Fascinating Fungi of New England (2011)
As a mycologist, he has studied fungi all over the world, but especially in his own backyard of New England. And as an explorer, he has made over 40 trips and expeditions to the Arctic and Subarctic. The photo shows him in a contemplative mood on a beach in Siberia.
What's he's up to
October 18 — Atheist Nomads radio interview.

October 19 — Talk about fungal ecology at the Cambridge Center for Adult Education.

October 20 — Fungal foray for the Cambridge Center for Adult Education.

October 28 — Fungal foray at Fresh Pond in Cambridge Center.

November 19 — Expedition to nether Labrador.

January 25-31 — Mycological trip to Bermuda.

Early February — Publication of The Book of Origins!
Featured Review
The Book of Origins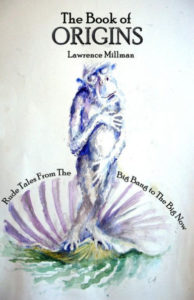 Political correctness is the reigning disease of our time. If you agree with this observation, my most recent book, The Book of Origins, is just the book for you.
A collection of satiric stories, it owes its allegiance to George Carlin and Jonathan Swift, but not, definitely not, to Jane Austen. In its pages, you'll learn about God's failure as a supreme being and his subsequent retirement, the Dalai Lama's pot habit, the poison ivy in the Garden of Eden, the Statue of Liberty being mistaken for a Nazi, a U.S. president who decides to attack another country because he's horny, and numerous other previously undocumented incidents in our planet's history. Not for kids or the faint of heart!
PRAISE FOR THE BOOK OF ORIGINS
"Is it possible to revere irreverence? I give The Book of Origins two unopposable thumbs up!" — Dan Barker, author of God: The Most Unpleasant Character in All Fiction
"If you read these strange bedtime stories one at a time to your child every night, he or she will grow up to be either Albert Einstein or a high literate inmate of an insane asylum." — Andrei Codrescu, author of Bibliodeath
To obtain a copy of The Book of Origins, contact NFB Publishing
([email protected]), go to indiebound.org, or barnesandnoble.com.
---