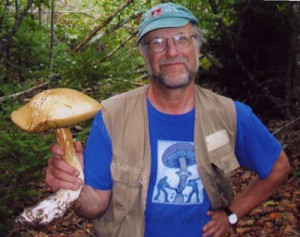 Lawrence Millman has done mycological work in places as diverse as Svalbard, Belize, Western Samoa, the Canadian Arctic, Belize, Costa Rica, and Nantucket. His inventory of fungi at Wachusett Meadow Wildlife Sanctuary in Princeton, MA, currently numbers 490 species. With fellow mycologist Bill Neill, he discovered a species of polypore (Echinodontium ballouii) in 2005 that hadn't been seen since 1909 and was thought to be extinct.
In the fall of 2011, Millman led mushroom walks in Fairbanks (AK), Craftsbury (VT), Wellfleet (MA), Conway (NH), Sharon (MA), Montpelier (VT), Princeton (MA), Concord (MA), Girdwood (AK), New York (NY), and Boston. If you would like to book him for a mushroom talk or a mushroom walk, email: [email protected]


---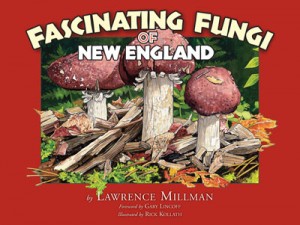 My Book: Fascinating Fungi of New England
Published in July 2011, Fascinating Fungi of New England is the first book to be devoted exclusively to New England mushrooms. It is written in a non-technical language and contains full color illustrations that will help you identify mushrooms not only in the woods, but in your own backyard. Many species described in the book can be found in other parts of North America. Fascinating Fungi of New England has a rave introduction by renowned mycologist Gary Lincoff.
For an inscribed copy of Fascinating Fungi of New England, download and mail the order form.
---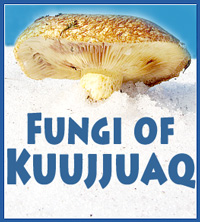 Fungi of Kuujjuaq
In 2007, I received a grant from Nunavik's Makivik Corporation to study the mushrooms in and around Kuujjuaq. This community, the largest in Nunavik, was ideally situated for mycological research, since it was both above and below the tree-line.
You can find my report on the Fungi of Kuujjuaq right here.
---
Mushrooms of Pingualuit Crater
In July of 2008, the government of Nunavik sponsored an environmental survey of the area around Pingualuit Crater, a 1,400,000 year old impact crater located in Pingualuit National Park in northern Quebec, Canada. In addition to writing several articles about Pingualuit Crater itself, I was asked to prepare this inventory of fungi in the vicinity of the Crater.