"Millman's a genius." — Annie Dillard
"A wonderful writer!" —Paul Theroux
"The master of the remote." — Bruce Chatwin
Lawrence Millman's 16 books include Last Places, Hero Jesse, A Kayak Full of Ghosts, An Evening Among Headhunters, Our Like Will Not Be There Again, Wolverine the Trickster, and The Wrong Handed Man. See them all on GoodReads.
The following books are available from the author. Please send a check for the appropriate amount (in US funds) to:
Lawrence Millman,
P.O. Box 381582
Cambridge, MA 02238.
He will send you a signed copy of the book in question, postpaid.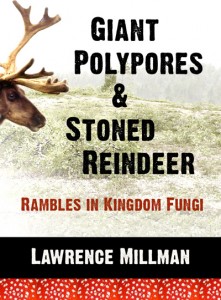 Giant Polypores and Stoned Reindeer
Released in August 2013. $20. download the order form
In Giant Polypores & Stoned Reindeer, author-mycologist Lawrence Millman visits every point of the compass in search of rare or simply weird fungi. In his own New England, he discovers a species thought to be extinct for the last 100 years; and in Siberia, he finds a mushroom that may or may not have inspired the invention of Santa Claus. In the words of Britt Bunyard, editor of Fungi, the book is "insightful, imaginative, brilliantly-written, and sometimes downright hilarious."


Hiking to Siberia: Curious Tales of Travel and Travelers
October 2012. $18.
"Lawrence Millman is one of our great story tellers. His accounts of out of the way places can chill you or charm you or make you laugh out loud. Sometimes he can do all that in a single story. The man is a master."
–Tim Cahill
author of Jaguars Ripped my Flesh and Hold the Enlightenment.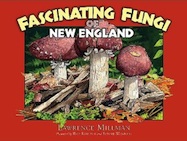 Fascinating Fungi of New England
July 2011. $17. download the order form
Written in a non-technical language and illustrated in color, this book will help you identify mushrooms not only in the woods, but in your own backyard. Many species described in the book can be found in other parts of North America. Have a look at Langdon Cook's review.

Northern Latitudes
Personal vignettes about the North. Called "a beautiful voyage into terra incognita" by Jim Harrison. The author's favorite among his own books. $12

Paris Was My Paramour
Satiric diaries by, among other eminences, God, Attila the Hun, and a certain Lost Generation novelist. "A beautiful spaceship of a book!" -Andrei Codrescu $13

Lost in the Arctic
Essays about (among other things) Millman's being marooned on an Arctic island not on any map, the disappearance of Henry Hudson, the eccentric English explorer John Hornby, Anglo-Welsh author John Cowper Powys, Alaska's Kodiak Island, the author's hypochondria, and Marble Island in Hudson Bay. $18

I'll Dream You Alive
A collection of the songs, chants, and curses Millman collected in East Greenland in the mid-1980s. Translated, with an introduction, by the author. $13

Hero Jesse
One of the first novels to deal with the emotional aftermath of the Vietnam War. Finalist for the 1982 PEN/Hemingway Award. $11

A Woman in the Polar Night
This book, by Austrian author Christiane Ritter, is perhaps the best book ever written about the Arctic from a woman's point of view. Millman got the book back into print (it had been out of print for over 60 years) and wrote the introduction. $20